Tadpole

---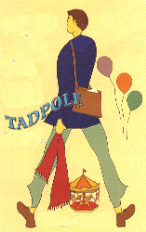 Film Comedy. Theatre release July 19, 2002. Video/DVD release January 21, 2003. Miramax.
Cast features Aaron Stanford, Sigourney Weaver,
Bebe Neuwirth, John Ritter, Robert Iler.
Directed by Gary Winick.
Written by Heather McGowan and Niels Mueller.
Winner, Sundance Film Festival 2002 - Best Dramatic Direction.



E FIRST SEE Oscar Grubman (Stanford) on a train traveling from his upstate New York prep school to Thanksgiving holidays at his father's (Ritter) residence in New York City's Upper East Side. Oscar is fifteen and he is in love. But he is not an ordinary fifteen-year-old love-struck American preppie. He spends summers with his mother in France and has absorbed much of that culture. He is fluent in the language and looks to Voltaire as a guide to life. His standards are high. He finds American girls shallow. But not American women. So he is in love with an accomplished, intelligent, and attractive woman. His stepmother, Eve (Weaver), to be exact. He is not unaware of the potential for disaster in this situation. Should he tell her? Can he tell her? And what will happen if he does? The film follows his wobbling and often hilarious journey to the inevitable confrontation of desire and reality. We last see Oscar on the train returning to school, somewhat enlightened and more accepting of his place in the world.
Stanford. . . assumes Oscar's uncommonly intelligent, well-spoken and mature airs with utter ease and credibility and he creates one of the most distinctive young screen characters in recent memory. --Variety
---
National print media reviews
People,August 5, 2002, p. 34.
Elle, August 2002, p. 57. Full page review with photos.
Vogue, July 2002, p. 100. "The film's director, Gary Winick, takes the kind of playful approach to sex that we're used to getting in a European film. But he balances it with a very American sweetness. Coaxing a charismatic performance out of Stanford (who's in his mid twenties but eerily convincing as a teenager), Winick has made a film that's compassionate without being too sentimental."